Version 2
Version 2.21 – 08/30/2012
Introducing new shocking defense unit: Hidden Tesla (unlocks on Town Hall level 7).
You can now see traps when visiting own clan members.
New Visual effects (Dragon Attack, Wizard Tower attack).
New decoration flags for: Sweden, China, Norway, Thailand, India, Australia, South Korea, Japan.
Added FAQ and forums.
Improved Healer AI
Spring Trap doesn't affect to P.E.K.K.A anymore and her speed has been increased.
Building regeneration times decreased.
Cooldown added to shield buying (can't be shielded all the time anymore).
Bug fix: Achievements didn't always get updated to the Game Center.
Version 2.44 – 09/18/2012
Full support for iPhone 5 and 5th generation iPod Touch.
Big new feature: Spells! (Spell Factory unlocks on Town Hall level 5).
Introducing three spells: Lightning, Healing and Rage Spell
Replays added to Battle Log! Now you can see what happened when someone attacked your village.
Added Wizard Tower unlock to Town Hall level 6 and another Hidden Tesla to Town Hall level 8.
Matchmaking now gives you better matches and works faster.
Troop upgrades are now visualized.
Many visual effects were improved.
Support for iOS 6 Game Center challenges.
Shop and Battle Log redesigned for iPhone and iPod Touch.
You can now view helpful hints while the game is loading.
Added 3rd upgrade level for Dragon.
Fixed the troop donation bug.
Troop training and housing mechanics improved.
Canceling building upgrades does not give the full price back anymore.
Building Walls is instant but requires available worker.
Combat balance tweaks.
Confirmation popup when speeding up building construction and upgrading.
Players gain a very short Shield if disconnected from the server unintentionally.
Server now runs battles to the end if user gets disconnected during battle.
You can now view the clan before you accept the invitation.
Version 2.73 – 10/15/2012
Chat improvements
Global chat is now moderated! Report offensive messages by tapping them and choosing "Report".
Improved profanity filter for global chat creates a nicer and safer chatting environment.
Clan Improvements
You can now set minimum amount of trophies required for your clan. Players won't be able to apply if they don't meet the minimum requirements.
Added notices to Clan chat when members are promoted, demoted, join or are kicked out of the clan.
You can now send a personal message when you kick someone out of your clan.
Other changes:
Players with lower Town Hall levels now lose less resources when attacked by higher Town Hall level players (2 level difference or more).
There is now a short no-attack period after maintenance breaks to allow players to log back in unperturbed.
Added an extra confirmation step when loading village from Game Center to avoid accidents.
Version 2.86 – 10/27/2012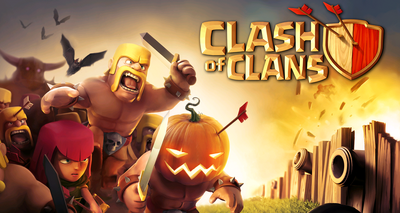 Get ready for the HALLOWEEN EXTRAVAGANZA
Magic is in the air! You can now create spells faster than ever before.
Tricks! Brand new Pumpkin Bombs available for limited time only.
Treats! We increased the amount of gems in some gem packages.
Witches and Monsters! Training cost of Wizards, Dragons and P.E.K.K.As decreased.
Town Hall level 9 added!
New defensive turret: the X-Bow! This weapon shoots bolts of Elixir with a super fast rate of fire.
New spell: Jump! Boost your troops over enemy Walls. Upgrading the Jump Spell allows even Giants andP.E.K.K.As to jump over Walls.
P.E.K.K.A has a fearsome new look that can be unlocked by upgrading her to level 3.
New upgrade levels for Cannons, Mortars, Wizard Towers, Spell Factory, Mines, Collectors and Storages.
Bug fixes and other changes
Find your biggest rivals with Clan Search.
Removed the option to sell buildings.
Fixed rare bug that caused build times to be off-sync with shield times.
Fixed a bug that player and alliance trophy counts to be displayed differently.
Version 2.111 – 11/19/2012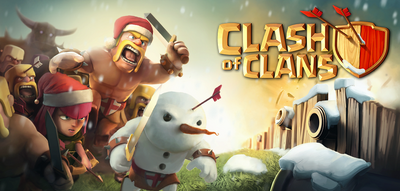 Introducing Clash of Clans limited time Winter special!
Winter theme complete with the best snow fall effect ever seen!
Surprise your enemies with the Unpleasant Present! Special gift-wrapped explosive trap.
New spell: Ask Santa to deliver a devastating bombardment to your enemy's village.
Rare X-mas tree, can you spot it?
Huge improvements to matchmaking!
Offered matches will now be a lot better and closer to your own trophy count.
Queue system added! Less hitting of the "Find a match" button.
New system will work much faster than before.
Big permanent improvements
Are you in a hurry? Now you can Boost up your resource buildings (starting up at level 5), Barracks(starting up at level 4) and Spell Factory
Leaderboards now shows daily rank changes, see who rises and who falls.
Introducing Army Camp level 7, now you can create even bigger armys!
Attention Town Hall level 9 owners! You can now build an additional Cannon!
Added more space to the village to make it easier to move things around and build bigger villages.
Decorate your village with the Statue of P.E.K.K.A! Only available to players above level 75!
Defending Clan Castle troops have learned how to jump over Walls, just like the villagers do.
Balance changes and other fixes
Town Hall hit points were increased.
Healer hit points increased.
P.E.K.K.A level 2 and 3 hit points decreased.
Clan Castle shows activation radius once again.
Version 3
Version 3.3 – 10th January 2013
Heroes!
Introducing Clash of Clans HEROES: The Barbarian King & The Archer Queen!
Heroes are immortal! Unlike other troops, they will not perish in combat. If they are injured, they can simply sleep it off
Dark Elixir
New rare resource: discover Dark Elixir, formed over aeons from fossilized Black Dragon bones!
Use Dark Elixir to recruit Heroes and upgrade their abilities.
Build a Dark Elixir Storage on Town Hall level 7 and take the precious resource from other players.
Dig deeper: Dark Elixir Drills unlocked on Town Hall level 8.
Cool New defences
Two new X-Bow upgrade levels for maximum firepower.
You can now build two X-Bows on Town Hall level 9.
Two new wall upgrade levels: "Spikes of Pain" and "Flaming Magma".
Know your clan members
Find out who are the most valuable members of your clan! Clan members now get a troop donation score (counted as Clan Castle housing space filled).
Also, the "Friend in Need" achievement now counts donated troops in terms of Clan Castle housing space filled.
Added new limits for the clan trophy requirements. 3000 is the new maximum.
Balance modifications & bug fixes
Stockpile more Gold and Elixir! New storages added to Town Hall level 9.
Barracks level 8 upgrade cost reduced by 30%.
X-Bow range decreased to 11 tiles in Air & Ground mode.
X-Bow ammo capacity decreased by 25%.
X-Bow loading cost displayed in the info screen.
The Winter is over! Santa Spell and Unpleasant Present removed. And it has stopped snowing!
You can now tap and hold the Create Spell button to queue spell production.
Version 3.25 – 5th February 2013
Cool New Leaderboards
Climb to the top of your Clan; see who's on the rise and who's falling.
New local Leaderboards: who's the best player in your country?.
Clan members who recently joined tagged as "New".
Supersize my Leaderboards! More players now fit onboard.
New unit upgrades!
Upgrade your Laboratory to unlock these mighty level 6 units.
Barbarians get sharper swords and mighty horned helmets.
Archers get new bow techniques and fashionable tiaras from their Queen.
Giants are heartier and hairier than ever.
Balloons are pimped out with spikes and the Jolly Roger.
Air-tight air defense!
New deadly traps to stop airborne attackers: Air Bomb and Seeking Air Mine.
Upgrade your Air Defense turrets to level 7 to shoot down the nastiest dragons.
Turn enemy Balloons into pincushions with the level 11 Archer Tower.
Hero improvements!
Heroes recover health faster thanks to the Alchemists' new sleep potion.
Hero level and stats are now displayed correctly when visiting villages.
Heroes now patrol a larger area and show guard radius when tapped.
Gameplay improvements
We discovered that metal armor conducts electrickery! P.E.K.K.A is now a priority target and receives extra damage from Hidden Teslas.
Spell creation times reduced – blast more magic more often.
Notification when your troops are ready for battle (Army Camps full).
Wall levels 9 and 10 strengthened: hold off the rampaging hordes for longer.
Shop now notifies when new items are available.
New Achievements: Heroic Heist and Mortar Mauler.
Lower reload costs for X-Bow levels 2 and 3.
Tapping a trap shows its trigger radius.
Version 3.54 – 12th March 2013 "Dark Elixir Troops"
Get ready to unleash the true power of Dark Elixir…
Introducing the mysterious Dark Barracks and ultra cool new Dark Barracks troops!
Minions: These fast flying menaces rain down deadly acid on their foes.
Hog Riders: Hammer in one hand and hog reins in the other, these mighty warriors leap over Walls and go straight for enemy buildings.
Valkyries: Armed with mighty two handed axes, these maidens unleash whirlwinds of doom upon everything around them.
If you happen to see dark tombstones, you'll know you're being visited by these awesome new Dark Barracks troops.
Having trouble with walls?
Improved Wall Breaker training techniques have revolutionized the cunning of these fearless demolitionists. Wall Breakers now maximize the potential of each and every bomb, avoiding decoys and distractions.
These crafty new Wall Breakers demanded a bit more elbow room, so they now take up two camp spaces.
Usability improvements!
Players now have an option to move multiple wall pieces at one time. Yay!
Troops can be deployed near obstacles, so no more getting lost in a sea of flags.
A new laboratory screen lets you browse available upgrades even while an upgrade is already in progress.
Ever wondered how much loot can you get from single players levels? Well now you can find out, just by tapping the map.
The Battle Results screen now shows your loot with spaces between numbers (100 000 instead of 100000).
A handy total destruction percentage is now included in the battle log.
If a Barracks is being upgraded, its queued troops no longer count towards the "Troop capacity after training" count in the Barracks' training screen.
Super Performance!
Our code wizards have made the game run silky smooth, even at the high levels. This means better control over battles.
Improved game balance!
Wizards and Dragons now do small area splash damage.
Decreased training time for P.E.K.K.A.
Decreased training cost for Dragon and P.E.K.K.A.
Increased hitpoints and damage for level 1-2 P.E.K.K.A and Dragon.
Version 3.124 – 17th April 2013 "Leagues"
Introducing Leagues: compete in your own division!
Joining a League is easy: just own 400 trophies or more!
Get a Loot Bonus out of every victory just from being in a League!
Loot Bonus increases the higher you climb in the Leagues.
New unit, defenses and building upgrades
Rock Hard: summon a mighty Golem with Dark Elixir. A glutton for punishment, the Golem won't stop even if you hack it in half!
Upgrade the Dark Barracks to level 4 to unlock the Golem.
Bolster your defenses with an additional Wizard Tower and a Seeking Air Mine at Town Hall level 9.
Level 5 Clan Castle and level 7 Hidden Tesla upgrade now available, also at Town Hall level 9!
Clan improvements
Clan Leader is now able to send messages directly to Clan Members' inboxes.
Chat message formatting overhauled.
Clan tournament length increased to two weeks, reward doubled.
Troop donation statistics now reset every other week.
Clan troop donation information is now visible to all players, not just Clan members.
Usability improvements
If Clan Castle has space for more troops, "Request" message displayed on top of it.
Added option for rotating a Wall section.
Added confirmation dialog when speeding up unit and spell upgrades.
Attack notification improved for players playing with multiple devices.
Balance tweaks
The percentage of loot that can be stolen from Gold Storage and Elixir Storage was decreased to make it easier for newer players to save up resources. The maximum possible amount of loot remains the same.
Upgrade times for Hog Rider, Minion, and Valkyrie decreased.
Air Bomb explosion radius decreased.
Level 5 Minion hitpoints decreased.
Hidden Tesla trigger radius increased.
Gold Mine, Elixir Pump and Dark Barracks upgrade times reduced.
Spells are now much faster to create.
Balloons explode and deal additional damage when destroyed.
Wall Breaker behavior improved.
Mortar and Wizard Tower don't restart their attack cycle if their would-be target is destroyed, instead they switch targets.
Clan Castle troops deploy faster to the battlefield.
When your village is under attack from flying units only, your melee troops will stay inside the Clan Castle.
Version 4
Version 4.14 – 23rd May 2013 "Town Hall 10 – the Fiery Fortress"
Introducing Town Hall level 10 – the Fiery Fortress
Brand new defensive building: Inferno Tower!
The Inferno Tower shoots a jet of flame that burns through even the thickest armor.
The flame takes a while to heat up, making it most effective against the biggest and baddest troops.
Stop Heroes, P.E.K.K.As and Golems in their tracks, and shoot Dragons out of the sky!
Be careful: the Inferno Tower can be overwhelmed by a swarm of smaller targets.
Unlock powerful new upgrades with Town Hall level 10:
Additional Cannon, Archer Tower, Giant Bomb and Dark Elixir Drill.
New heroic levels for Barbarian King and Archer Queen.
New upgrade levels for X-Bow and Air Defence.
Attack log and replays!
Watch replays of your attacks.
See a log of your attack history with a record of loot and trophies captured.
Show your most dominant victories to friends and family.
Analyze your toughest fights and improve your skills.
Level 8 Laboratory: better, faster and stronger than ever!
Unleash the ancient Red Dragon (Dragon level 4).
Rock on with Golem level 5.
Support the troops with Healer level 4.
Interface improvements
Chinese language setting is now available.
Hugely expanded keyboard support. Write in any language!
Smileys and other emoji characters supported in chat! Add the special Emoji keyboard in your device settings (General > Keyboard > Keyboards > Add New Keyboard).
Quickly browse through Barracks, Dark Barracks and Spell Factory screens by tapping arrows.
Number of clan troops received is now shown in addition to the number of troops donated.
The center of your village is now marked with a plaque.
Personal breaks enforced for players who stay continuously in-game for very long periods of time.
Balance tweaks
Decreased Healer's housing space requirement, training time and training cost.
Decreased Heroes' upgrade times, regeneration times and upgrade costs on some levels.
Decreased training cost of Golem on level 2, 3 and 4.
Decreased cost of Town Hall level 9 upgrade.
Decreased cost of Laboratory upgrade to level 5, 6 and 7.
Decreased cost of X-Bow upgrade to level 2 and 3.
Decreased cost of Air Defense upgrade to level 7.
Decreased cost of Dark Elixir Drill upgrade.
Version 4.53 – 17th June 2013 "Freeze spell & Japanese"
This update brings an exciting new battle spell, Japanese language support and more!
High Level Magic
Freeze Spell: freeze enemy turrets and ground troops solid! While frozen, defensive structures will be disabled and troops immobilized.
Master the arcane arts with level 5 Spell Factory.
Let the sparks fly with level 6 Lightning Spell.
Cure the most grievous damage with level 6 Heal Spell.
Advanced Warfare
Crush your enemies with P.E.K.K.A level 4.
Upgrade the Cannon to level 12 for awesome firepower.
Make your village perimeter near-impenetrable with level 11 Walls.
Clear your airspace with an additional Air Bomb and a Seeking Air Mine.
Turn on the heat with a second Inferno Tower.
Turn your foes into pincushions with a third X-Bow.
Upgrade your Army Camp to level 8, and muster a truly epic fighting force!
Interface improvements
Japanese language setting now available.
Added speed up option to next Clan Castle troop request.
Players can now attach a custom message to a clan troop request.
Performance was increased with multiple optimizations.
Text sharpness improved.
Battle will not end automatically if player has unused Clan Castle troops or Lightning Spells.
Improved profanity filter for many languages.
Balance tweaks
Heal spell is now more effective (all levels).
Dark Elixir Storage has increased hitpoints.
Jump Spell now affects all troop types even at level 1.
Level 2 Jump Spell duration doubled.
Player level cap increased to 300.
Version 4.54 – 24th June 2013 "Gold Mine & Elixir Pump for TH10"
Added one Gold Mine and one Elixir Collector for Town Hall level 10.
Version 4.74 – 29th July 2013 "The Witch"
New unit: the Witch! Skilled in the dark art of necromancy, the Witch reanimates the skeletons of dead warriors. Commanding her undead horde, she's a fearsome sight in battle!
Dark Barracks level 5 upgrade available, unlocks the Witch.
Knock down immovable objects with the unstoppable force of level 6 Wall Breaker!
Share your coolest battle replays with your clan members in clan chat! You may share one replay with your clan every 30 minutes.
You can now temporarily mute a player in global chat. Their messages won't be displayed on your screen.
Top Players leaderboard now displays "Attacks Won" and "Defenses Won" statistics, similarly to League rankings.
Your opponent's name and clan are now visible during a replay.
Decreased Hog Rider's housing space requirement from 6 to 5.
Increased Valkyrie's attack damage (all levels).
Decreased Valkyrie's training cost (levels 1, 2 and 3).
Decreased the upgrade cost of Dark Barracks (levels 2, 3 and 4).
Many other small tweaks and fixes.
Version 4.120 – 27th August 2013 "Player Profile"
Brand new Player Profile feature
See XP level, league badge and trophy count all in one place.
Includes achievement progress, clan status, league wins and troop donations.
Hog Rider rework!
The new and improved Hog Rider now targets defenses, allowing new Hog Rider tactics.
Damage increased: the Hog Rider now packs a heavier punch with his sledge hammer!
Hogs now have personal trainers to get them in jumping shape, reducing Hog Rider training time.
New spell, unit and building levels
Added level 6 Wizard.
Added level 8 Wizard Tower.
Added level 4 Freeze Spell.
New clan features
Trophy requirement to join a clan can now be up to 3,600 trophies.
Added cooldown for Elders kicking out Clan Members
Three of the most challenging, most rewarding achievements yet!
League All-Star: push your league progress to the limit and earn our highest ever gem rewards!
X-Bow Exterminator: earn gems for taking out those pesky X-Bows.
Firefighter: destroy the dreaded Inferno Towers and get handsomely rewarded.
Interface Improvements:
Replay sharing improved: shared replays now show loot, trophies and can include a custom message.
Achievement progress is now tracked even after an achievement is fully completed.
Info screen added for secondary units (Skeleton and Golemite).
Chat can be scrolled all the way to the top by clicking on the tab above it.
Game Balance
Most League loot bonuses have been increased.
Decreased cost of Heal, Rage, Jump and Freeze Spells.
Decreased the Witch's attack range.
Decreased training time of Balloon and Wizard (from 10 to 8 minutes).
Decreased the upgrade cost of level 3 Freeze Spell.
Increased heal spell radius from 3.5 to 5 tiles.
Many smaller fixes and tweaks!
[Taken from the v4.120 update item on the Supercell announcements forum.]
Hidden Changes:
Level 6 Wall Breakers' Bomb become a Barrel Bomb.
Global Chat and Clan Chat highlighted when you receive a new message and the scroll is down.
Maintenance – 9th August 2013 "1st Anniversary boost ends"
Today's maintenance break will end the 1st Anniversary boost, I hope you all enjoyed it!! We will also make two tweaks while in maintenance:
Resource collector Boost will be improved (cheaper, lasts longer)
Giant Bomb will be improved (cheaper, more damage)
Version 5
Version 5.2 – 30th September 2013 "Village Edit Mode"
Clash of Clans now officially supports iOS 7.
Brand new village edit mode
Clear the clutter! Pick up all buildings and Walls at once and design your village from a clean slate.
Quick and precise building placement by dragging from inventory.
Place many Walls at once by selecting a wall piece, then dragging along the wall guide markers.
Edit Mode is unlocked after you reach Town Hall level 4.
Halloween scares
Can you find all the tricks and treats? You might be shocked!
Boogeymen at work: for a time, Spell Factory boosting is vastly longer and for only 1 gem!
Mortar mayhem
Pummel your foes with the level 8 Mortar.
Clan improvements
New troop request indicator in Clan chat: tap the indicator to scroll down to the latest pending troop request.
Changed Elder Kick cooldown to be 20 minutes.
Balance tweaks
Increased Valkyrie's attack damage (all levels).
Increased hitpoints & damage of level 6 Giant.
Increased hitpoints and heal of Healer (levels 3 and 4).
Slightly decreased hitpoints of Hog Rider (all levels).
Version 5.2.2 – 10th October 2013 "Unforced Update"
This new, unforced (for the first time ever – history in the making!) Clash Update has a couple minor fixes:
Bug fixes for Village Edit Mode
Bug fixes on iOS7 Text input
Version 5.6.4 – 6th November 2013 "Trap Upgrades"
Reworked traps
Sick of puny bombs? Upgrade all of your explosive traps to blow up your foes bit time!
Even sicker of constantly replacing your traps? Traps now stay put after use, and can be fully re-armed with a single button!
Level 1 Giant Bomb is now much cheaper, though with a slightly decreased damage radius that can be upgraded.
Bomb and Giant Bomb explode faster after being triggered.
Seeking Air Mine and Air Bomb trigger radius has been decreased.
Seeking Air Mines now cost Gold instead of Dark Elixir.
Version 5.113.2 – 5th December 2013 "X-Mas & Loot change"
Winter is here
Enjoy the snowy sights, sounds and hunt for elusive jingle-bearing trees
Limited time special defense: Santa Strike! Call in an air strike of explosive presents (but what is inside the boxes?)
Reworked Inferno Tower is hotter than ever
Brand new multiple target mode launches a blazing web of flames against several troops at once, but the flames will not charge up in this mode
Troops targeted by the Inferno Tower are no longer able to be healed. Use multiple target mode to seriously hinder healing reliant armies
Switch between the classic single target or new multiple target mode at any time
Inferno Tower level 3 will help keep you warm this Winter
Revamped looting
Percentage of loot available now decreases based on defender's town hall level
Maximum amount of loot available now increases based on defender's town hall level
Loot bonus when attacking opponents at higher town hall levels has been removed
Check out the Clash of Clans forum for much more information about these changes!
Interface and feature improvements
Clash is now fully localized in Korean!
Village Edit Mode: New base layouts in-progress will be automatically saved and resumed if the game restarts
Added "Training capacity" to barracks info and upgrade screens
Unarmed traps are now indicated a by a smoke effect instead of text bubbles
Arabic text input has been improved
Balance tweaks
Decreased the attack range of Inferno Towers from 10 to 9 tiles
Decreased the cost of the Inferno Tower level 2 upgrade
Slightly increased damage of level 4 Dragons
Slightly increased HP and damage of level 6 Giants
Version 5.172 – 29th January 2014 "Hero Abilities!"
All hail new Hero abilities!
Both Heroes have acquired special abilities that can be activated once per battle, after they have been deployed.
Iron Fist: The Barbarian King and nearby Barbarians become enraged for a short time, moving faster and dealing more damage (does not stack with the Rage Spell).
Royal Cloak: The Archer Queen hides from and becomes invisible to all enemy defenses for a short time.
Both Hero abilities will instantly call in a group of Barbarians or Archers to reinforce their King or Queen.
Hero abilities unlock for free at Hero level 5 and improve in strength every additional 5 Hero levels!
Flyers, freezers and brand new boosts
Level 6 Minions are here to wreak havoc on enemy bases!
Level 5 Freeze Spell leaves defenses on ice for longer than ever before.
Get your Heroes back into battle faster by boosting their recovery 4x while sleeping.
Boost cost and duration of Barracks and Spell Factory now reduced from 4 hours/20 gems to 2 hours/10 gems.
Version 6
Version 6.56.1 – 9th April 2014 "CLAN WARS"
Clan wars! The biggest update in Clash history is here!
Fight clan versus clan in strategic showdowns full of bonus loot!
Fill your clan's War Log with the details of each epic fight!
Participate in Clan Wars at no risk to your resources, shield or trophies.
Battle for two new achievements: War Hero and Spoils of War!
Clan castle renovation
Rally huge clan support with Clan Castle level 6!
Clan Castles now protect war loot payouts and are lootable in battle!
Higher level Clan Castles hold more loot. Collect it whenever you like!
Surprise! Only clan members can see what troops are hiding in the Clan Castle.
Gem overgrowth is BACK
The Gem Box is back so keep an eye out for these mysterious boxes packed with gems!
All Gem Boxes will now give more gems than the original ones. We're sorry for the long wait!
Interface and Player Support improvements
If you're not in a League, your attacks won / defenses won statistics will not be shown.
Confirmation button added to Global chat reporting. Report responsibly, Chief!
New Help Center is now available! The first version is in English and you can find it under Settings -> Help and Support -> More Help.
Balance tweaks
Decreased the cost of the Clan Castle level 5 upgrade
Slightly increased HP of level 8 Laboratory
Version 6.108.2 – 16th May 2014 "SAVED WAR BASE"
War Base layout and War Base Edit Mode!
Been wanting to keep a separate layout for your War Base? Now you can!
Your War Base layout now has a life of its own and will persist from war to war without the need to touch your regular village.
War Base Edit Mode is available on the Clan War map during preparation day only. Layouts are still locked during battle day.
Upgrades in your village are still automatically applied to your War Base, but remember to place any new buildings into your War Base layout!
Even if you're upgrading your Inferno Tower or X-Bow in your village, you can toggle between different modes in your War Base.
Clan Wars stats improvements!
All new War Stats tab shows lots of new cool war statistics. Find it under the blue star button after battle day begins.
Most heroic victory and most heroic defense replays for each team are featured in the War Stats!
Improved Clan war info pages under the blue star button are now outfitted with war related stats instead of general clan stats.
See information about total war attacks, defenses and war stars won per member in these Clan war info pages.
Clan Wars feature improvements!
Dismiss donated troops from your War Base Clan Castle if they don't meet your standards!
See in the clan chat when a leader or co-leader starts or cancels a Clan War matchmaking.
Each base on the war map is now numbered to help you find bases easier.
The ! notification icon on the war button will appear only once per war during preparation (instead of every session).
Interface improvements
Russian language is now supported in game settings!
Fixed a display bug in spell factory capacity when scouting in war.
A notification will appear in clan chat if Clan War matchmaking fails to find an opponent.
Village edit mode available at Town Hall 3 (previously was 4).
"Request/Full" texts are visible on the clan castle even while under upgrade.
Improved the start war screen button layout and behavior.
Version 6.186.1 – 3rd July 2014 "Hero Changes"
Finally! An update packed with battle improvements, balancing and content is here! Prepare for the comeback of melee-attacking masters, and intense hero-on-hero battles inside of enemy villages!
Bored Builders? Lazy Laboratory?
P.E.K.K.A level 5 is here to prove its battle prowess: http://supr.cl/PEKKAlvl5
Jump Spell level 3 is here to empower future Jump experts.
Hidden Tesla level 8 will shock your enemies.
Bomb level 6 packs a bit more punch into those pint-sized explosives.
Epic Battle Rebalancing – Show Your Skills and Triumph!
Heroes version 2.0 are here with readjusted strengths, smarter defending, and stronger abilities! Read below for more info.
The Jump Spell has been overhauled and is now amazingly effective! Read below for more info.
Valkyries are now moving like no troop ever has before. Read below for more info.
Inferno Tower multi-mode is now slower at burning through big hordes of attacking troops.
Troops now work together to break through walls, targeting similar wall pieces instead of lots of different ones.
Hog Riders now take increased damage from Giant Bombs.
Training cost of P.E.K.K.A has been reduced.
Hidden Tesla build times have been reduced.
Interface Improvements
Can't stand the suspense of ongoing Clan War attacks? Tap them to watch a live replay of the battle as it happens!
Re-arm your traps and reload all of your defenses easily by tapping your Town Hall.
Clan mail messages can now be twice as long.
You can now copy your current village layout to your Clan War base with one button.
Interrupted War Base edits in progress are now properly recovered.
The settings menu has been redesigned with dedicated News and More sections, separate from your Inbox.
Heroes: The New Battle Specialists
The time has come for a smarter, more strategic brand of heroes. Rather than being foolish, hulking brutes, the King and Queen are now much smarter on defense, have distinct strengths and weaknesses, and their abilities are more important than ever. Check Chief Pat's official interview with Jonas from the development team:http://supr.cl/herochanges
The heroes have gotten sick and tired of being lured out and squashed in the edges of the map. Now, they only attack targets in a limited territory around their platform and will retreat if they get drawn away too far.
Both heroes now get a damage increase and recover health when activating an ability. Use the damage boost to get an edge over defending heroes, or the healing to save them from the clutches of defeat!
Hero abilities now improve much more significantly with each new ability level and summon more supporting troops than before. The best way to make your hero stronger when attacking is to increase their ability level!
Hitpoints and damage for the Queen and hitpoints for the King have been slightly increased at lower levels. However, hero hitpoints and damage have been decreased at higher levels in order to balance heroes on defense and allow for stronger abilities.
The effect of Rage Spells on Heroes has been reduced to put more emphasis on the skillful use of hero abilities. For the Queen and later levels of the King, bonus damage from hero abilities will far exceed bonus damage from Rage Spells. As before, Rage Spell bonus damage and hero ability bonus damage will not stack (the greater of the two takes precedent).
Heroes now specialize in a certain role:
Barbarian King: The Tank Specialist
His damage has been reduced, but he now can heal himself greatly when using his Iron Fist ability.
The Barbarian horde summoned by Iron Fist has doubled in size to cause even more mayhem!
Use Iron Fist at the right time to help the King take more damage than he ever could before!
Archer Queen: The Damage Specialist
Her hitpoints have been reduced in later levels, but the Queen now gains a tremendous damage boost while her Royal Cloak ability is active.
The duration of Royal Cloak has been greatly increased in lower levels to help make sure the Queen has enough time to land her most powerful of shots.
Use Royal Cloak at the right time to help the Queen hit important targets harder than she ever could before!
Jump Spell: Control the Battle Flow
The Jump Spell used to only affect troops it landed on, often leading to disappointing results. Now, the Jump Spell influences all troops in the battle. Masters of the Jump Spell will be able to direct their melee troops like never before!
All troops you deploy can take advantage a Jump Spell, even if the troops are not directly hit by the spell.
Casting a Jump Spell will now cause troops to redirect themselves immediately if it opens up a more advantageous route close by.
The Jump Spell area has been slightly reduced to allow for more precise control of the spell.
Video: http://supr.cl/NewJumpSpell
Valkyrie: The Wild Whirlwind
The Valkyrie rarely used to put her area-damage to any good use. Now, that has changed in a big way, and you might be shocked by her effectiveness in battle.
Valkyries now charge around and position between pairs of buildings to find the best spots to attack.
Version 6.253.4 – 16th September 2014 "Lava Hound"
At last, update day is here!!! Read all that's new below:
Brand New Dark Elixir Unit: Lava Hound!
This faithful flying unit cannot resist chasing after fireworks, and will go straight after the nearest Air Defense
The Lava Hound's massive hitpoints makes all the incoming damage seem like mere playtime
Though the unit deals very low damage, it will erupt upon death into many tiny Lava Pups that attack any nearby buildings
Available at Dark Elixir barracks level 6, Town Hall level 9
New Upgrades
Barbarian & Archer level 7
Archer Tower level 13
Dark Elixir Barracks level 6
Wall Upgrading Improvements
Walls level 6+ can now be upgraded with Elixir instead of Gold – your choice!
Select a row of walls to upgrade all pieces with one button press (so long as the cost is not over the maximum possible storage amount)
Replay Improvements
Pause button added to replays (except live replays in Clan Wars)
Replays and live replays now show the attacker's available troops so you can see exactly what does and doesn't get deployed, and when
Live replay screen now shows the time remaining in battle so you can watch the timer tick down just like the attacker
Balancing
Hero regeneration time has been greatly reduced on all levels
Valkyrie training time has been greatly reduced
Healers have been trained to avoid distraction: now they will always try to stick with and protect the same group of friendly troops
Defending Clan Castle troops now use all 4 Castle doors when coming out (overall speed of deploying is still the same as before)
Other Improvements
Troops can be dismissed from Army Camps and Clan Castle
Removed spell production cancellation penalty
Spells are now produced in the same order as they are selected
Version 6.322 – 22nd October 2014 "Halloween"
A spooky update has descended upon Clash! What tricks and treats lie in store?
New permanent trap: The Skeleton Trap!
Ambush and distract your enemies with a small group of Skeleton troops! They might be short-lived, but will certainly get some attention.
Skeleton Traps can be set to target either ground troops or air troops. Find the right mix of trap modes for your village!
Skeleton Traps become available at Town Hall 8 and can be upgraded to deploy more skeletons at once.
Limited-time treats lasting through Halloween weekend
1-gem Spell Factory boost special is back!
Harvest some bonus Elixir from special Halloween Headstone obstacles
Clan profile and search improvements
Specify your Clan's war frequency in your Clan profile, anything from always to never
Specify your Clan's location, or declare it as International
Search other Clans by war frequency, location, member count and minimum clan points, even without specifying a search name
Know what Clan you're searching for
Search via hashtag to get the exact result you need.
Clan descriptions can now be much longer!
Increased League bonus and more War loot
League bonuses increased on all League levels!
More War loot! Increased rewards from victory, defeat and draw
Boost improvements
Boost all buildings of the same type with one button
Barracks, Spell Factory and Hero boosts will now be automatically paused during maintenance and can be resumed later for free
Slightly reduced boost cost for Elixir Pump level 11, Gold Mine level 11 and Dark Elixir Drill levels 5 & 6
Other Interface Improvements
New Mortar at Town Hall 8
Player profile now shows the highest unlocked level of a player's troops, heroes and spells!
The Hero icons will now show Hero ability status also in replays
Army camp contents are now visible to visitors in the Army Camp info screen
Time to remove obstacles is now lower
Increased War loot storage capacity on all Clan Castle levels
Version 6.407 – 11th December 2014 "Winter is here!"
Bundle up, Clashers! The Winter Update is finally here
Introducing the Layout Editor
Save multiple layouts for both your home Village and your War Base!
Switch between layouts easily at any time
Make copies of existing layouts or build new layouts from scratch
Edit inactive layouts at any time – you can even take a break and finish later!
New goodies
Level 12 Gold Mines and Elixir Collectors at Town Hall 8!
Level 7 Giants are stomping into Town Hall 10
Compare your clan to others in clan local leaderboards!
Other improvements
Under attack? You can now watch a live replay while waiting to load your Village!
Hero ability icons now show remaining hitpoints and will start flashing when low – use their ability to recover some HP!
Resume boost button now shows how much time is remaining for the boost
Improved level display for troops/heroes/spells
Pending join requests are now limited to 10 per clan to prevent spamming (additional join requests cannot be sent)
Economy balancing
Upgrading Walls with Elixir is now available only when upgrading to Wall level 9 and higher
The first Dark Elixir Drill is now available at Town Hall 7
The second Dark Elixir Drill is now available at Town Hall 8
Dark Elixir Drill maximum capacity has been increased on all levels
Combat balancing
Archer Towers now shoot twice as fast to better take down weak hordes (total damage remains unchanged)
Inferno Towers now shoot for a longer time before getting depleted (loading cost remains the same)
Army camps have heavily decreased hitpoints – no more stubborn campfires!
Cannons, Barracks, Laboratory, Spell Factory and Dark Elixir Drills have higher HP on almost all levels
Hitpoint values have been adjusted slightly for many other buildings
Lava Pup HP has been slightly decreased
Version 7
Version 7.1.1 – 24th February 2015 "Clans Are Leveling Up!"
Clans Are Leveling Up!
Level up your clan and earn perks, prestige and fancy badges!
Cannon level 13 packs a punch and takes a lot of damage!
Clan Wars Opt-in/Opt-out gives you Clan full control of war!
Customize your Clan badge with the badge editor!
Power-up your Clan with Clan Perks
Request troops more often and donate more troops at a time
get refunds and automatic upgrades on donated troops
Increase your Clan War loot bonus and store more in your Clan Castle
Version 7.156 – 1st July 2015 "Dark Spell Factory"
The Rise of Master Spellcasters and Legends
The Dark Spell Factory is here with three new spells!
Dragon level 5 sets its golden gaze on Town Hall 10
A second Air Sweeper will help clear the skies, starting at Town Hall 9
New Leagues are here, including the Legend League Tournament and Legend Trophies!
The Dark Spell Factory
Harness Dark Elixir to make spells with advanced tactics, starting at Town Hall 8
Poison Spell: Make a toxic cloud that slows and drains the health of defending troops
Earthquake Spell: Rattles away the hitpoints from buildings and Walls
Haste Spell: The fastest speed boost ever, at half the storage space of a Rage Spell
These Dark Spells take half the space of regular spells. Mix, match and experiment!
New Leagues and the Legend League Tournament
Introducing Titan League and the ultra-prestigious Legend League at 5000 Trophies!
Legend League Tournaments are a new challenge for top players, ending once a month
Tournament Legends get their final standings featured in the Top Players tab and profile
Each tournament resets Legends to 5000 Trophies and converts extras into permanent Legend Trophies!
Game Balancing
Training times in the Spell Factory have been reduced
Extra Spells can now be queued in Spell Factories, even if your Spell Storage is full
All resource storages are now immune to all direct spell damage
Clan Tournaments are one month long and award more gems to more players per Clan
Barbarian, Archer, Dragon and P.E.K.K.A training cost adjusted for some levels
Several building hitpoint values have been increased
Inferno Tower's Single firing mode now charges to full power slightly faster
Dragon level 4 has been moved to Town Hall 9
Archer Towers arrows travel faster so they "miss" less of their shots at range
A.I. Improvements
Troops and Heroes are less likely to target walls unnecessarily (even the Archer Queen)
Troops and Heroes will not continue bashing through walls to get to a destroyed target
Wall Breakers now avoid retargeting towards unnecessary walls when deployed in groups
Fixed rare cases where defending Heroes or defenses might get stuck and not attack
Interface Improvements
Train your army with a new Training button just above Attack – no more Barracks-hunting
Army Overview lets you view, request troops and edit your army, including spells!
Quick-tabs have been added to training views to make cycling between buildings easier
Troop selection when attacking has been cleaned up with new visuals and sounds
You can now filter offensive Clan Chat by enabling the Clan Chat Filter in the Settings
Arabic and Traditional Chinese languages are now supported!
[Taken from the Update 01/07 – Dark Spell Factory update item on the Supercell announcements forum.]
UPDATE 30th April 2015 "Air Sweeper"
New anti-air defense: The Air Sweeper
Push back groups of flying enemies with strong blasts of air!
Air Sweepers deal no damage, but are great at slowing the progress of air attacks
Air Sweepers can only face one way, but can be rotated to a direction of your choosing
Unlocked at Town Hall 6, Air Sweepers gain more pushing strength when upgraded
Clan bookmarks
Bookmark any Clan for later viewing using the '+' icon on any Clan profile page
You can bookmark up to 30 Clans and view them under a new tab next to your profile
Clan War attack army preview
Never attack unprepared again! Your army is now previewed before every war attack
Inspect your troops, Clan troops, spells and heroes – anything missing will be flagged red
Be ready or be sorry! You can no longer end war attacks early without surrendering
Interface improvements
Starting at Town Hall 5, a one-time name change will become available in the game settings – use it wisely!
Clan chat now shows when Clan settings are changed, indicating who changed them
Defense ranges can now be seen even when the defense is under construction
Defense modes can now be changed even when the defense is under construction
Defensive buildings now initially point away from the TH in combat, EXCEPT for the Air Sweeper, which always points in its configured direction
Gameplay improvements
Attacking troops will not start chasing defending troops as far away as they used to
Fixed a very rare case where a defense might target a troop at the edge of its range, but not fire
Loot values for many lower level single player maps have been improved, along with some slight layout tweaks and surprises
Matchmaking tweaks
You are now more likely to find targets at or near your Town Hall level in multiplayer matchmaking
Strength calculations have been updated in Clan Wars matchmaking to compensate for high level walls and heroes, skeleton traps, etc.
(Already released in the 2x Clan XP event) Clan Wars matchmaking now prefers to wait a bit longer and try to find a bit better match